Susan Alcorn's Backpacking & Hiking Tales & Tips, August 2023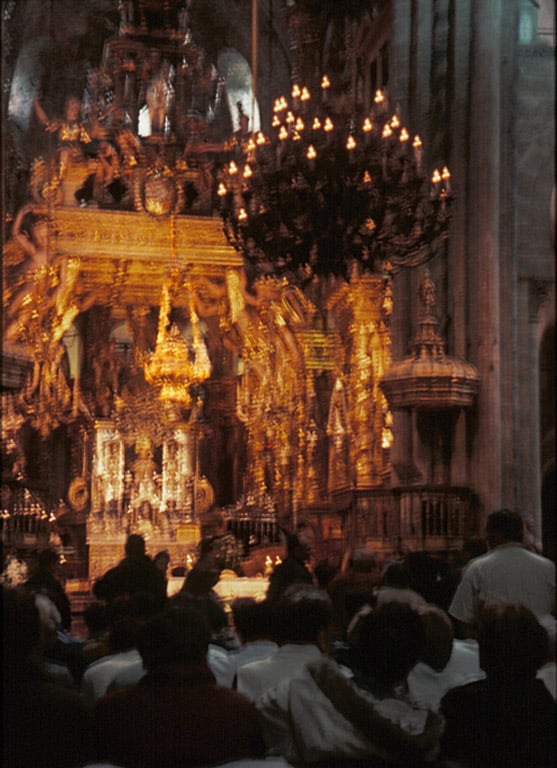 Contents:
1. Four Pilgrim Masses every day in Santiago
2. Camino guidebook author, John Brierley passes
3. I Hike and I Hike Again—books by Lawton Grinter
4. "Are You a Tick Magnet"
5. This might save your life: "How to Cross a River," by Treeline Review.
6. Laurie Ferris on Barcelona and Gaudi's Sagrada Familia Basilica
7. ALDHA-West Gathering
8. How to tie your shoes
9. Jack London State Historic Park
Articles:
#1. Camino Interest: Pilgrim masses at the Cathedral in Santiago de Compostela are being held daily at the main altar at 7:30am, 9:30am, 12:00pm and 7:30pm reports, Johnniewalker Santiago.
Guy Joaquin, coordinator of Nor Cal Pilgrim chapter, reported, "It's happening!" "…you can once again hug the statue of St. James behind the main altar at the cathedral in Santiago. Yay!"
#2. Beloved Camino guidebook author and pilgrim, John Brierley passed away on July 2nd, 2023. His final offering for the Pilgrim Community, in his own words are here in a preview of the docuseries, "The Camino: The Path to Awakening, From Fear to Love" This link will take you to the preview AND the first of the docuseries.
And, "From the Chair of American Pilgrims on the Camino Regarding the Passing of John Brierley
Dear fellow pilgrims,
With sadness, I'm writing to inform you that our fellow peregrino John Brierley has died. Countless numbers of us have relied on John's guidebooks as we undertook our caminos. He not only advised us on choosing routes, finding albergues, and noticing interesting places. He also guided us inwardly, always reminding us to tend to the inner pilgrimage. I was recently in a Zoom call with John, and I was deeply impressed with his readiness for the next stage in life's pilgrimage. In the spirit of his Camino Guides, he was prepared for what came next and looking forward to whatever the way presented.
John's daughter Gemma has been working with John on his guidebooks for some time, and she will carry on his work. We extend to her and the rest of John's family our deepest sympathy and our gratitude for their support in his mission that has meant so much to us.
Buen camino, Steve Lytch, Chair. Board of Directors, American Pilgrims on the Camino"
#3. I Hike Again: Mostly True Stories from 15,000 Miles of Hiking
First came: I Hike (2012) by Lawton Grinter (Author). "I never set out to hike 10,000 miles. It just sort of happened over the course of a decade." And so goes Lawton Grinter's compelling collection of short stories that have been over ten years and 10,000 trail miles in the making. I Hike brings the reader trailside with blissful moments on the highest mountain ridges to the mental lows of mosquito hell and into some peculiar situations that even seasoned hikers may find unbelievable.
Between jobs and in search of something more, Lawton Grinter spent the better part of a decade hiking America's longest trails. In doing so he came face to face with things that go bump in the night, the kindness of strangers, a close encounter with hypothermia and the absurd rights [rites] of passage common to the eccentric people that call themselves long-distance hikers.
Susan adds: Fun summer read. It'll bring back memories to many as they read of adventures on the trail. Thanks to Triple Crown Recipient Marcia Powers–who I am sure can identify with such topics as near death experiences and welcome trail magic by trail angels–for recommending these books to me!
#4. You Really Are a Tick Magnet. "By studying how the arachnids respond to static electricity, researchers may have found a new reason to dread the bloodsucking creatures.
Static electric fields naturally produced by animals, humans included, can physically yank ticks onto their hosts." "By electrically extending their reach, ticks may be able to grab hold of hosts more easily. While the finding may add to ticks' terrifying attributes, this knowledge could also be used to improve antistatic tick defenses." Excerpts from an article by Darren Incorvaia for NYT. Published June 30, 2023/ Updated July 1, 2023 Read the intriguing article here.
#5. Treeline Review writes, "It's been a big snow year—and that means big snowmelt. Our new guide on How to Ford a River delves into the classic tips and weighs in on the debates on the best way for hikers to stay safe when the trail crosses a stream, creek, or waterfall. Considering backpacking the Colorado Trail—learn from the experts in their our brand-new guide to Thru-hiking the Colorado Trail!
Care to survive trail runs, particularly as temperatures rise, read: Hydration Tips for Trail Runners. And don't forget to check out read their article on how to thru hike over 60, in which I was thrilled to participate. The link includes the video of the subsequent panel discussion).
#6. While in Barcelona: Laurie Ferris wrote, "After my last Camino, I visited Barcelona and went on a self-guided tour of Gaudi's Sagrada Familia Basilica. I was shocked and impressed with how much progress was made since my last visit in 2008. The inside is pretty much done and they have masses there. Pope Benedict consecrated it as a basilica in 2010. It's slated to be finished in just a few years! If you go, download the app for the self- guided tour that you can use with your own earbuds instead of those awkward hand thingies… (Posted on the Nor Cal Camino Pilgrims FB page on July 8)
#7. The ALDHA-West (American Long Distance Hiking Association-West) GATHERING 2023 is scheduled for September 15-17 in Mount Hood, OR. "We are coming back to the West Coast with the annual ALDHA-West Gathering and Triple Crown Ceremony. And tickets are now available! The gathering is to come together in community to reconnect and, of course, celebrate this year's Triple Crown hikers.
"There will also be speakers, dinner, entertainment, and plenty of Hiker Olympics shenanigans as well as some business including the annual Membership Meeting and Board Elections. Beds and camping are available for the whole weekend – and if you want someone special to join you at the Triple Crown Award Dinner and Ceremony, we have tickets for just the dinner, too.
"Applications for the Triple Crown close August 30th at 11:59p PT. Volunteers for the organization are needed including for Secretary and Board Member at Large. Board positions are a two-year commitment. There is one 90-minute meeting per month, plus 1-8 hours per month of tasks between meetings. You must be a member in good standing of ALDHA-West to apply – a membership is only $15 per year!" Contact or info at: secretary@aldhawest.org or www.aldhawest.org"
#8. Feet swell when hiking? Shoes rubbing you the wrong way? Feet sliding down and hitting the front of your shoes on descents? It could be how you are trying your shoes. There are various ways to tie shoes to relieve pressure on certain parts of your foot–or to hold your feet in place instead of sliding forward. A very helpful post by Elizabeth (Beth) Henkes for for REI with suggestions. How to Lace Running Shoes

Regional:
#9.What's up at Jack London State Historic Park? 1) Volunteers' Training on August 18 & 25. "Join the essential team of volunteers who help operate Jack London State Historic Park. Meet visitors from all over the world and share the legacy of Jack and Charmian London at their Beauty Ranch. Conduct tours, staff the entrance station, work in the bookshop/visitor center, play piano in the museum—and lots more.
No experience is required, just a willingness to learn and the desire to share that knowledge with visitors from near and far. The time commitment is only four hours per month. Volunteers receive a park pass in acknowledgement of their service.
The training is scheduled on Fridays, August 18 and 25, 2023 (two-day training) 9:00 a.m. to 4:30 p.m. both days, for all assignments except trail patrol and hike leaders. For information and to sign up, contact Susan St. Marie at sstmarie@jacklondonpark.com.
2) HIKE: Jack London's innovative Pig Palace is one of the stops on the Discovery Hike at Jack London State Historic Park on Sept. 2, 2023. California Naturalist Laura Wagner will lead a newly-developed "Discovery Hike" to explore Beauty Ranch and visit the site of Jack London's lake at Jack London State Historic Park in Sonoma Valley, CA. Hike is from 9-11:15 a.m. 2-1/2 miles with a 350-foot elevation gain. Participants are advised to bring a pen or pencil and water and wear sturdy shoes.
By the end of this new discovery hike, you'll know, "What is a "refrigerator tree" and what does it feel like? How tall/old is a redwood tree compared to you?. What is a Fairy Ring and where can you find five or more of them?
Tickets: visit https://jacklondonpark.com/events/discovery-hike. The Sept. 2 program is limited to 15 people, ages 8 and up. Tickets are $10 per person and do not include the park entry fee ($10 per car for up to nine passengers). It will be canceled in the event of excessive heat.
Info from media contact: Laurie Armstrong Gossy. Follow park doings at https://jacklondonpark.com/
*****
Thank you everyone. Stay well, keep hiking when prudent. I encourage you to send in items of interest to the hiking community to me at backpack45 "at sign" yahoo.com
Susan 'backpack45' Alcorn
Shepherd Canyon Books, Oakland, CA
https://www.susandalcorn.com
https://www.backpack45.com
Author of Walk, Hike, Saunter: Seasoned Women Share Tales and Trails; Healing Miles: Gifts from the Caminos Norte and Primitivo; Patagonia Chronicle: On Foot in Torres del Paine; We're in the Mountains Not over the Hill: Tales and Tips from Seasoned Women Backpackers; and Camino Chronicle: Walking to Santiago.
Please note: Hiking and backpacking can be risky endeavors. Always be prepared for emergencies and carry food, water, shelter (warm clothing, etc.), flashlight/headlamp, matches, first aid supplies, and maps. Cell phones don't always work. Leave word where you are traveling and when you are due back.